Functional Based Assessment to Behavioral Intervention Planning (One Day Seminar)
Writing an effective behavioral intervention plan (BIP) is nearly impossible if one does not know the parameters of the behavior. This training takes ten days of real data and takes participants through a session to learn how to analyze the data by hand to determine the following:
time of day triggers
day of the week triggers
setting event triggers
antecedent triggers
what specific target behaviors show up for each of the above
what specific impact the student is gaining or escaping by engaging in these behaviors.
To do this, we need to do a functional behavior assessment (FBA). We have simplified the FBA process and developed a free tool that graphs the above information. Participants will learn how to read the tool in the one-day seminar and make decisions to build an effective BIP. Participants will learn how to fill in the Triple T-Triple R chart and then turn that into an effective plan.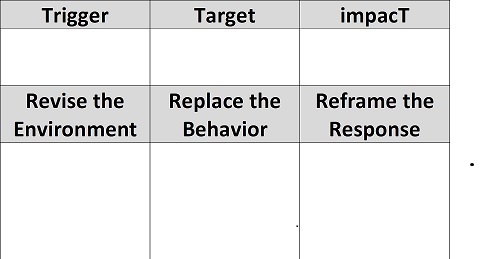 Participants who sign up for the two-day seminar will learn how to use the tool and will need to bring a computer with Microsoft Excel for the second day of training.
Previous participants have commented that they now feel confident to develop effective plans and realize the importance of knowing the function behind the behavior prior to developing a plan.
Proposed Agenda: This Can Be Altered To Suit Your Needs
8:30-10:00- Ten Tenets of Behavior
10:00-10:15- Break
10:15-11:30- Understanding data collection and then beginning to analyze the data we are collecting
11:30-12:45- Lunch
12:45- 2:00- Data Analysis
2:00-2:15- Break
2:15-3:30- Data Analysis, Data Collection Tools, Synthesis and Evaluation
Learning Objectives:
Participants who attend this training will learn the ten tenets of behavior.  Understanding the tenets will help us understand where and why behavior appears in the classroom.  All behavior is communication. Afterward, participants will be able to take ten days of real data, plug it into an analysis tool, discuss with table mates and learn the functions and triggers of behavior.  After analysis of Scout's data, the participants will learn how to plug this into the Triple T-Triple R Chart to build a behavioral intervention plan that is data-based decision making. This is the ABC's of behavior in a simplified version.  Participants will leave with an understanding of FBA and BIP.