Schedule a Training
We'd love to add you to our 2015-2016 calendar so that we can continue to educate your teachers and administrators on behavior modification techniques and positive interventions. You can submit your session requests two ways:
…or schedule a training through our site:
Check out our Sessions
Our most popular training sessions, but just a sampling of our offerings:
Meet the Doc: Dr. Laura Riffel
Laura Riffel Ph.D. has trained thousands of teachers, parents, counselors, psychologists, administrators, and bus drivers how to make data-based decisions as a way to change behavior
She is a behaviorist who specializes in assisting adults to make proactive changes.
WHAT OUR PARTICIPANTS HAVE TO SAY ABOUT US:
I attended your session at the Summer Autism Institute in 2012 and found you very inspirational. At the time I was a student earning a Special Ed degree. Little did I know how valuable your resources and information would be to my school career or to the students in our district.
Need Training in Your District?
Would you like Behavior Doctor Seminars to come to your city? Check out this video highlighting Dr. Riffel's humor.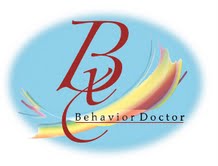 Behavior Doctor Seminars is a Registered Trademark