Attention Deficit Hyperactivity Disorder (ADHD)
ADHD is one of the most common disorders for children and is on the rise. According to the Center for Disease Control (CDC) the numbers have increased from 7.8% in 2003 to 11% in 2011. Boys are much more likely than girls to be diagnosed with ADHD (Boys- 13.2%) (Girls 5.6%).
Behavior Doctor Seminars believes educators and parents should try non-medicated interventions first to ameliorate the symptoms of ADHD that affect learning and social relationships. Dr. Riffel believes the reason boys are more likely than girls to be identified with ADHD is due to physical structure of males vs. females.
With photos from Gray's Anatomy, you can see the difference between a male and female tailbone. When we ask males to sit on hard wood or plastic chairs, we are asking them to sit on a tailbone that is much more in direct contact with the surface than their female counterparts. While we should truly be sitting on our "sit" bones, no one sits like this and almost everyone sits with a rounded back causing the tailbone to be in direct contact with the surface for a male. Picture rights purchased from 123rf.com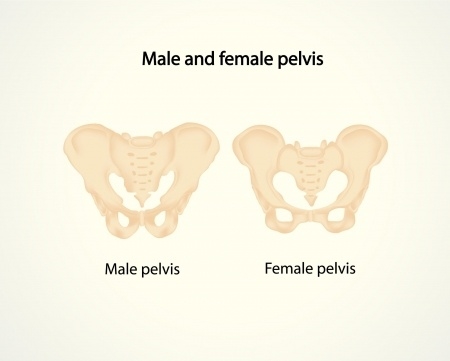 Notice the male pelvis has a "V" shaped pubic arch and less space in the pelvic opening. The female pelvis has a "U" shaped pubic arch and more space is the pelvic opening. Add to this, the fact that a girl's center of gravity is lower than a boy's center of gravity.  (Female vs Male Center of Gravity).
No one ever said sitting on hard surfaces was best for learning. It is what we do in educational settings because it is cheap. Behavior Doctor Seminars has developed some solutions for seating that alleviate the pressure on the tailbone and can easily be implemented in the classroom. Watch our slideshow to find solutions you can implement for a very low cost.
Putting a footrest on the chair will help students use their extra energy in a positive way to organize their thoughts. Dr. Riffel prefers physical therapy banding across the two front chair legs; however, a leg of pantyhose will work just as well. The student can bounce their feet on this, push it down, pull it up, or put their feet behind it and push against it. This will provide some of the proprioceptive input or foot fidgeting that helps children stay in their seat.
For children who have anxiety along with their ADHD, Dr. Riffel likes having the children take off their shoes and being able to wiggle their toes. Taking off your shoes and wiggling your toes reduces anxiety by 39%. Put a section of pool noodle threaded onto the physical therapy banding between the two front legs of the chair. The students can push this down and roll their feet across the noodle. This is like a foot massage and will help them concentrate their brain by keeping their feet engaged, as well as relax them. One note of caution, the pool noodle will eventually rip from the banding. We have found reinforcing the pool noodle section with duct tape on either end keeps it lasting throughout the year.
Check out the materials page for PowerPoint presentations on ADHD interventions.
[divider type="thin"]
Companion Materials
The market is full of ADHD intervention tools. Here are a few of Dr. Riffel's favorites:
Just found a new fidget tool that is discrete and fabulous. It goes under the child's desk for busy fingers and has different textures for them to fidget with as they use their brain to learn. The boinks finger fidgets would work well as a fidget too too. My rules for fidget tools are (a) one handed, (b) quiet, (c) stays with student, and (d) helps student pay attention. Both of these tools would fit all four categories quite nicely.  To check out this product and many others go to www.fiddlefocus.com or click the picture below.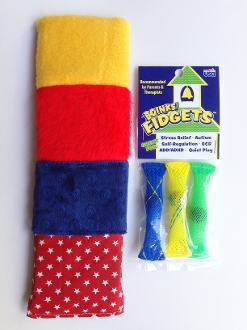 Fiddling Fun:
Kids with ADHD need to fiddle. Fiddles do not interfere with listening and research actually indicates "fiddling with a tool" increases retention.
Fidget Rules:
It must stay with you
It must be one handed
It must be quiet
It must help you pay attention
Interesting video from Dr. Thom Hartmann talking about the Edison Gene-  Dr. Hartmann talks to guest Dr. Richard Silberstein, a professor of neuroscience at the Brain Sciences Institute, at Swinburne University, about Attention Deficit Disorder.
These are just a few samples of what is available on the material download page. All PowerPoints, Booklets, Forms and Tools are available now in one area. Click on the slider title for Material Download or click this link.