Classroom Management Strategies: Tier Two Interventions (Two Day Seminar)
Little has been published on the tier two level of PBIS. This two-day training focuses on building a repository in your school for site-based interventions that are evidence based or research based strategies. We will go into detail about interventions you can use in the classroom and why they work.  Participants will learn generic strategies for:
Academic Struggles
Aggression
Anxiety
Apathy
Argumentative
Bullying
Disorganization
Disruptive Outbursts
Homework Issues
Impulsiveness
Inattentiveness
Memory Issues
Negativity
Non-compliance
Off-task behaviors
Personal Space Issues
Self-esteem (Lack of)
Sensory Input
sleepiness in Class
Social Skills Deficit
Stress
talking
Tantrums
Tardies
Transition difficulties
Participants will learn the Ten Rules that Govern Behavior along with a behavior planning tool that will help them develop an effective plan for each student. When planning for behavior change, we need to know the summary statement. We need to know the "when", "what", and "why". We developed a tool to help educators plan for this behavior change by creating the Triple T- Triple R Chart.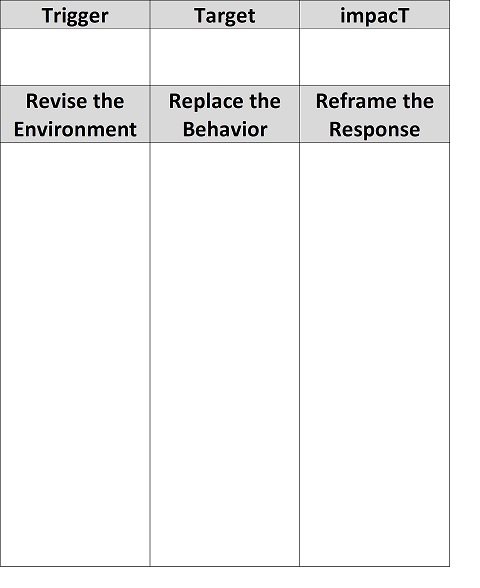 Participants will learn how to fill out this chart and ensure they have a multi-modal plan that will ameliorate the behaviors in the classroom.  This is best for a two-day seminar. If you choose the one-day seminar, we will be giving an overview of how to use the book with a few examples. If you choose the two-day seminar, we will go into deeper detail about how each intervention works in the classroom. Examples will be given for Pre-K through High School.
  Here is a suggested agenda for a two-day training. It can be adjusted to suit your needs.
 First Day Training:
8:00-8:30- Registration
8:30-10:00- Ten Rules of Behavior
10:00-10:15- Break
10:15-10:30- Universal Screening
10:30-11:30- Braided Classroom Management
11:30-12:45- Lunch
12:45-2:00- Universal Classroom Management – Revising the Environment- Replacing the Behavior- and Reframing the Response
2:00-2:15- Break
2:15-3:30- Strategies and How to Build a Repository of Interventions
Second Day Training:
8:30-9:00- Using the Triple T- Triple R Chart
9:00-10:00- Anxiety – Revising the Environment- Replacing the Behaviors- Reframing the Response
10:00-10:15- Break
10:15-11:30- Apathy, Argumentative, Bullying, Disorganization, Disruptive Outbursts
11:30-12:45- Lunch
12:45-2:00- Homework, Impulsiveness, Inattentiveness, Non-compliance, Off task Behavior, Self-Esteem, Sensory, Tantrums, Tardies
2:00-2:15- Break
2:15-3:30- Using Literature to teach Social Skills and Reinforcement